Introduction

This review is covers the VacMaster Pro 170 and the Vacuum Sealers Unlimited services. I originally owned a FoodSaver and was looking for a better bag. I stumbled on Vacuum Sealers Unlimited and thought I'd try their bags. I placed an order with Lisa Bilotta and discussed the products and services she provides. Lisa sent me a VacMaster Pro 260 to test and review. I fell in love with the unit. It did everything I wanted and more. I also found the bags to be superior to the FoodSaver bags and at a better price. I have been using the VacMaster Pro 260 for a year now and I have put allot of work it's way and it has never let me down. When Lisa offered to send my the VacMaster Pro 170 with a 15" bar and Dual Sealing capability I couldn't say no.
First Glance
At first glance the unit was packaged very well. During the un-boxing I first noticed the weight. This is a well built stainless steel vacuum sealer with a commercial look and feel to it as it weighs in at 19 lbs. The digital display was easy to read and straight forward. The User's guide is also easy to read and simple to follow. I really don't see any way anyone would have an issue getting started out of the gate. In the box was the vacuum sealer, power cord, accessory vacuum hose, user's guide and 32 15" wide vacuum bags.

Go to Intro Video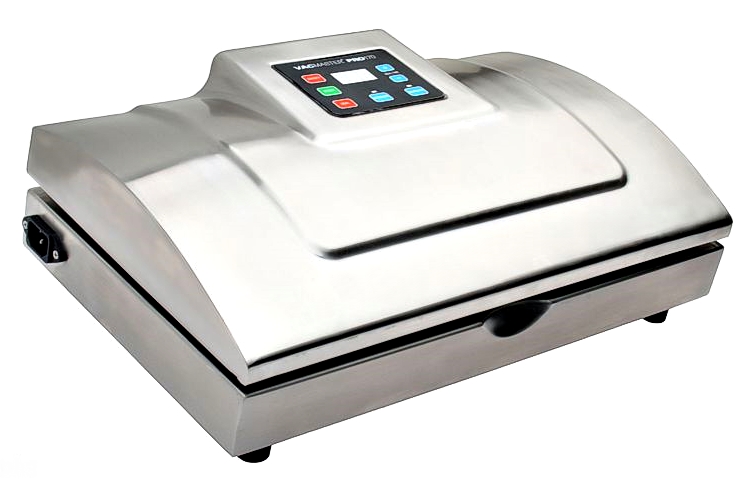 Features
Durable stainless steel body
15" seal bar with two seal wires - Competition is $200 more
Digital technology with LED panel display
Accessory port for storage canisters
Wide, easy-to-clean spill trough
Powerful dual piston pump
Built-in cooling fan for continuous use
Marinate & Pulse Modes
Meets commercial-grade quality standards allowing it to withstand frequent use
Specifications
Overall Dimensions: 17" x 10" x 6"
Seal Bars: 1 @ 15" with dual sealing strips
Pump: Dual piston pump
Cooling: Integral fan for cooling the vacuum pump
Cycle Time: Adjustable
Electrical Specifications: 110V, 60Hz, 2Amps
Weight: 19 lbs
Controls
On/Off: Power unit on or off.
Start: Initiate vacuum and seal process.
Seal: Initiate Seal only process (Used for sealing bags open at both ends.
Accessory: Used to Vacuum and seal using the optional storage containers.
Marinate: Used to marinate meats using the optional storage containers.
Seal Time + : Used to increase the seal time.
Seal Time -: Used to decrease the seal time.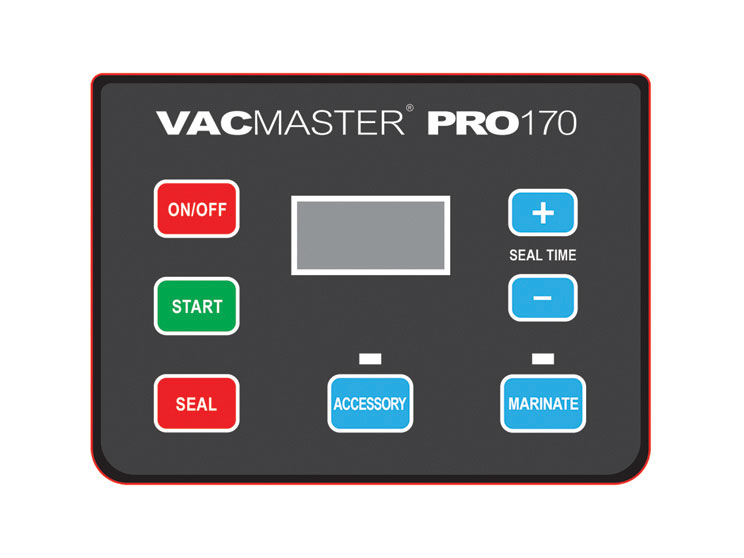 Operation
The unit is very straight forward to use.
Standard Sealing: Simply place your meats, fish or left over's into a bag. Lay the bag with the corrugated side of the bag on the bottom. Place the bag over the seal bar half way into the trough area. close the lid and press down slightly. Press start and the unit will begin pulling air from the bag. Once it starts drawing air out of the bag you no longer need to press down on the lid. Once maximum vacuum is reached the unit will seal the bag with a primary seal and secondary seal. These seals are done simultaneously eliminating a second seal process for a second seal known as a safety seal. Other sealers force you to go through the vacuum and seal process twice. This time can add up if you are packaging allot of product.
Accessory Sealing: This unit has a accessory vacuum line that is used in marinating or sealing using the optional plastic containers. These containers have a lid with a twist valve on top. There are three settings.
Open: Used for marinating or releasing vacuum.
Vacuum: Used to apply vacuum when sealing for storage.
Lock: Used to lock the container for storage so the hose can be removed.
Sealing for storage is easy. Place your leftovers in the container and install the lid. Move the valve to vacuum. On the controls press the accessory button and the unit will begin to draw air. Press firmly down on the lid until the vacuum starts. Once the lid is pulled down into place you no longer have to apply pressure. When the unit beeps move the valve into the locked position and remove the vacuum hose. You may now place your container into your fridge.
Marinating: The marinating mode is a great feature. You place your meat into a optional marinating container. Install the lid and move the valve to the open position. insert the vacuum hose. Press the marinate button on the control panel. A 1 will display which is mode 1 for 17 minute marinade. Press marinate button a second time to move to mode 2 which is a 27 minute marinade. Now press on the lid and press the start button. The pump will cycle applying vacuum and then turn off. After a few minutes it will release and allow air to enter the container then the pump will come on and apply vacuum again. This cycle will repeat throughout the marinating process.
Introduction and Operation Video
What's Next
You have just read my introduction and operational information on the VacMaster Pro 170 vacuum sealer. To date this is the best designed vacuum sealer I have had my hands on. The unit weighs in at 19 lbs. and is extremely well constructed. The price ranges from $254 to $300 and so far in my opinion it's worth the money. I'm not stopping here. I do allot of cooking and allot of sealing and storing. I plan on putting this unit through the paces over time. I will follow this page and video up with more information and videos along the way.
Where can you purchase the VacMaster Pro 170?
Contact Lisa Bilotta of Vacuum Sealers Unlimited

Retailer: Lisa Bilotta
Email: info@VacuumSealersUnlimited.com
VacuumSealersUnlimitted.com
Contact Form
Phone: 661-332-5631
Smoke It... And they will come!