Update!
Just a FYI everyone, there is a known issue with failing Hot Rods (igniters). According to Traeger Service this issue is known to affect some of the 2009 models and has been resolved in the 2010 models. The problem manifests itself by tmoisture leaking inside the igniter and eventually causing the electricity supplied to the igniter to short to ground. This will trip your GFI circuit.
Call Traeger immediately and speak with a service representative. You will be asked to supply your serial number found under the hopper lid. If you have any issue ask to speak with the service manager. Traeger should send you the new igniter.
I was able to finish my cooking by performing these steps...
Unplug the igniter. Remove the Controler (2 screws), replace the fuse. Once the fuse is replaced, remove the grill, drip pan and heat shield to access the fire pot. Turn on your Traeger and allow pellets to cover the igniter. You may now light the pellets with a propane torch. This should get you through your cook until you receive your parts.
The Guy Behind the Meat Mop
I'm Rob Green owner and editor of SmokingPit.com. I have been smoking meats for over 20 years. I have had the many years experience with Little Chief electric smokers, Charcoal, LP water smokers, offset stick burners and now the Pellet burners. I can smoke pretty good foods on most of these. During my hunt for a new smoker I stumbled on a YouTube video of a Traeger Lil-Texas. It was one of the older models but a Traeger none the less. The operation and use of pellets intrigued me and I began doing what turned out to be over a month of research. I'm persistent about digging up data as I always like to make an informed decision.
What intrigued me was the ease of operation and the use of pellets instead of wood chunks. The big difference right off is the pellet hopper and auger feed system. You fill the hopper and the electronic temperature controller feeds the appropriate amount of pellets into the fire box. The burn is hot enough to continuously maintain the desired temperature and produce a nice thin blue smoke. For those who may not know, one of the skills an accomplished pitmaster acquires over time is achieving and maintaining thin blue smoke for the duration of the smoke. White smoke produces a bitter flavor. If your goal is to pump out as much smoke as possible you can count on a bitter flavor to your smoked meats.
Auto Feed Pellet Delivery System
Lets discuss the pellet delivery system. What intrigued me was the ease of operation and the use of pellets instead of wood chunks. The big difference right off is the pellet hopper and auger feed system. Traegers have a side mounted hopper that holds the pellets. The pellets are not heating class pellets, they are a cooking class of pellet certified safe for cooking. The temperature control system automatically feeds pellets into the fire box as needed to maintain temperature. Your cooking and smoking with a real wood fire. When smoking low and slow it can maintain temp for as long as 12 hours without refilling the hopper.
System Startup
Startup on most smokers can be a hassle. Loading and starting charcoal is a pain and has a negative impact on the flavor of the meat especially when lighter fluids are used to ignite it. LP vertical require you soak wood chips and chunks. Be it propane you have to load the wood and water then play around with the LP fuel knob to get the correct temperature. once you add your meat you end up adjusting it again and again. With the Treager you open the lid, turn the knob to smoke and it automatically feeds pellets over a hot rod and ignites the fire. Within 5 minutes you shut the lid and the smoker comes up to 230 degrees within 10 minutes. Now you put your meat on and your Traeger will add enough pellets to maintain desired temperature for the duration of your smoke. It doesn't get any easier. I know friend who have purchased Traeger grills and their wives for the first time ever are out putting dinner on! There previous fears of igniting gas etc. are gone.
Fire Box and Auto Start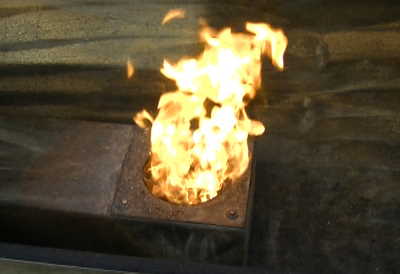 The heat and smoke delivery is simple. There is a small firebox about the size of a coffee cup. The auger slowly drops pellets as needed into the firebox. on startup there is a hot rod about 2 inches long inside the firebox that glow red hot after the temp knob is set to the on position "smoke". This is only red hot for the first few minutes as its only needed to start the pellets burning. This auto start system has functioned flawlessly. There is a fan motor used to push air through the fire box and circulate the heat within the unit. This allows the Traeger to cook like a convection oven. The fire box is locate under a het shield and a drip pan. The flames are well hidden and there is really no way for drippings from your meats to get any where near flame. This means no flare ups or carcinogens. This means healthier eating.
HD Video of startup
Cleaning
We have all scooped ashes from charcoal burners. It's messy to say the least. The Traeger pellets burn so efficiently that there is very little ash left behind. What is there you just use a shop Vac to remove. it's very quick and painless to clean. Since there is no flame the cooking grates do not get caked with excessive amounts of burnt matter. Just give the grates a quick brushing then wipe it with a paper towel. Some folks just let it heat up and rub the grate down with 1/2 of an onion. I have tried this and it works well.
Operating Costs
Pellets are a bit more expensive then Charcoal. In comparison to running LP and wood chucks for smoke the cost is about the same. At least this has been my experience. My cost for smoking or my smoking budget as I like to call it has gone up. It has gone up because my Traeger is so handy to use and the food is so tasty I find I am smoking or grilling on it at least 5 days a week and some weeks I don't miss a day. I have been buying Pellets for between $15 and $20 per 20 pound bag. In short the simplicity of operation and quality of the smoked meats or grilled meats far out weigh the cost of pellets.
Design and Build
For the most part the Traeger Texas is a well built grill. The only draw back is the metal is rather thin. This will allow for heat loss and could mean durability issues down the road. The pellet delivery system and automatic startup have performed flawlessly. The barrel section and door are very rugged and I like the Bronze powder coated door. It actually hides discoloration that is inevitable when smoking. The wheels are over sized and roll very easily in grassy areas providing your yard isn't loaded with potholes. The legs seem sturdy but I do wish they would have included bracing running from one leg to another as they do with their commercial models. The wheels are are also not as rugged as the casters on the commercial models. When I compare the Traeger with anything in the price range and some much higher it's still a preferable choice. One of the most influential data points that intrigued me was reading posts in forums by Traeger owners. Not one owner had a bad thing to say. One owner just bought one used. He was not sure its age. A owner of Traeger for 15 years new the model very well ant it was in fact a 15 year old model. It was a Lil-Tex he bought for $350 and it was still function great. I'm sure it got many new coats of paint over the years. I have not gotten a grill to last over 3 years without having to replace burners, grates etc. It's a sore subject with me.
Quality of Foods
When it comes to the quality of the smoked and grilled foods that come off the Traeger, this is where it shines most of all. Let's talk about thin blue smoke VS. white thick smoke. The professional pitmasters work to achieve a thin blue smoke and try to avoid at all cost a white smoke when smoking. Why? It simple, white smoke is an indication of lack of air and this makes for a bitter taste on your food. Smoke with thin blue smoke and you will produce amazing flavored foods. The Traeger takes out all the guess work. The pellest burn hot and the temperature control system delivers with precision the correct amount of pellet fuel. .You do nothing and it does everything. What a concept!
My family and friends have been amazed at the flavorful meats, veggies, Pizza and Lasagna that has come of the grill. That's right I said Lasagna! I have smoked full briskets, up to four pork butt's, three turkeys, 5 racks of ribs, two large pizzas and a large Lasagna with two loafs of garlic bread. You can smoke, grill and bake on the Traeger with all of it coming out as it should with great wood fire cooked flavor. There is one down side and I personally don't consider this a down side but some folks will. Some like what's called Black and blue steak or burgers. This means the meat is literally blackened or burned while grilling. The Traeger Texas can reach 430 degrees which is hot enough to sear a steak or burgers. Unfortunately this is on hot days. Due to the use of thin metal and no insulation, on colder days you will do well to maintain 390 with food in. It doesn't get hot enough to quickly blacken the outside of the meat. You will get a nice sear with grill marks but you won't be able to burn the meat. I do most of my cooking low and slow at 230 degrees and I pump out some excellent smoked BBQ. My burgers are truly amazing as they are juicy with great flavor and since there is no chance of a flare up, no carcinogens coming back onto the meat or flames for that matter..
In summary
Imagine this, a family emergency comes up and you end up spending 4 hours at a nearby hospital during your smoke. This has happened to me and when I came home my Traeger was running at 235 degrees with an hour left on my pork butt's. The pulled pork I smoked that day was one of the best I have done. I literally left the smoker unattended. There is piece of mind when cooking with a Traeger because you no longer have to worry about the temperature running away, flare ups, exhausting wood, adding water etc. It's a piece of mind you won't find in conventional smokers and grill. Along with ease of use you get an durability and some of the best tasting smoked and grilled foods you will taste. From my perspective, the quality of the Traeger, ease of use and the quality of the smoked and grilled foods it produces far out weigh its initial cost and the cost of burning pellets. This is a great low and slow cooker. I question how long the thin made in China metal will hold out. Only time will tell.
Update!
Traeger users have been running into igniter (hot Rod) issues. I had this very problem and it seems after all these months folks are still having issues. The problem manifests itself by the grill tripping your GFI circuit that should be in series with your outdoor outlets. Your hot rod will eventually stop igniting the pellets at start up.
Recommended Accessories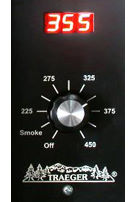 Let's talk accessories... There are allot of extras ranging from racks and shelves to thermostats etc. The items I bought were the cover, 225 degree digital thermostat and the front shelf. The digital thermostat regardless of whether you go with the 180 or the 225 degree model, they are a must have as they allow for a more granular control of the temperature. they also reduce the fluctuation in temp in comparison to teh three position switch. The 225 degree thermostats is provided by Traeger. If you want the 180 degree thermostat its sold as an after market part by other companies. Links for this are below. The first thing I noticed was I no longer required a heat probe in the smoking chamber to monitor the temperature. it was right on the money and it only fluctuates 20 degrees either way and this is in winter. Now I can buy a second meat probe and monitor to cuts of meat at the same time.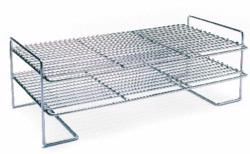 With my Traeger I purchased the smoking rack. This was a great add-on as it allows me to cook up a bunch of chicken on the main grill grate and I can load the rack up with ABT's etc above the chicken. It also greatly increase the rack space to smoke fish or jerky. This add-on I highly recommend.
All in all the Traeger is an outstanding smoker grill that provides quality and ease of use that is hard to pass by when considering an upgrade. Bottom line, you won't find too many folks who have owned them and didn't love them. My dealer owned his first for 10 years then gave it to a friend. It's still smoking great products to this day.
Looking for a Traeger Dealer?
If your in the Puget Sound area and are interested in purchasing a Traeger, I would highly recommend you talk to Chris Lunt (my dealer). Chris is a great guy who will definitely take care of you. I paid cash and my Traeger Texas was delivered within two working days. He even helped me set it up. Now that's service! Below is Chris's contact information. Chris is an authorized dealer of the Traeger brand. Traeger Website
Chris Lunt
Lord of the Grill
4415 N 45th St Tacoma, WA 98407 US
253-377-9654