In my quest to produce the best BBQ I learned long ago quality fuel is a critical component. The data provided in this review are observations and opinions I have formed during a very long test in which I have burned through over 60 bags of Bear Mountain Forest Products BBQ pellets. The pellets used during this test were purchased from two local Cash-N-Carry stores (30 bags) and 30 bags shipped directly from Bear Mountain Forest Products.
When buying BBQ pellets there are a few things to consider.
Are they food grade? - You will find two types of pellets on the market. Heating type which are for burning in heating stoves. These should not be used in food cookers as they most likely contain residual chemicals that have been absorbed into the wood. Food grade are processed using wood that is not subject to these chemical. Safety first!

Are they clean burning? - Clean burning pellets will for the most part burn down to a very fine ash keeping your burn pot from prematurely building up with ash and causing your igniter to not make contact with the pellets on startup. It can also have negative impact on airflow to your fire. Clean burning equates to a more efficient fire and less cleanouts.
Are they ashy? - What this means is that when the pellets are burning so they emits excessive ash debris into the air. All pellets by nature will emit light amounts of ash into the air as they burn. However some brands will emit what I consider unacceptable amounts into the air and this is easy to spot because you will see a layer of ash build up on and around your cooker in as quick as the first hour of burning. If your getting this amount on the outside of the cooker your getting even more on your food inside the cooker.
Flavor - Do you get a nice wood fire flavor into your food when cooking with the fuel. The amount of smoke is determined by the type of flavored hardwoods used as well as the efficiency of the fire. Cooler burning fire maintaining a pit temp 200 - 275 will provide for an efficient burn that still produces ample smoke. Burning hotter in the 350+ range will produce allot less smoke.
Cost - This seems to be the most important driver for most folks who run pellet grills. With todays economy folks just won't cook as much if its cost prohibitive. Contact Bear Mountain and ask about bulk shipment. In most cases you can get a better price buying in bulk and they will ship it to you providing you have access to a loading dock. I have them sent to my father in-laws engine shop.
Availability - Equally important as cost is availability. Bear Mountain Forest Product BBQ Pellet's can be found in your local Cash-N-Carry store. Their store locator will help you find a Cash-N-Carry closest to you.
My experience and thoughts - As for the above mentioned items, Bear Mountain Forest Products excels in all aspects. I have burned five of the top major brands over the years and have settled on Bear Mountain. I was impressed with the cost and quality of their product and personally feel Bear Mountain BBQ pellet's have upped my cooking game.
The following are some observations while using Bear Mountain Forest Products BBQ pellets.
The flavor is great!
Tri Tip cooed with Bear Mountain American Hickory BBQ Pellets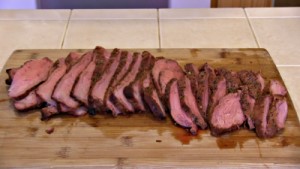 Feeding: The size of the pellets are what I consider a standard size. They seemed to feed through my auger without issue.
Igniting: The pellets ignite quickly, and have a great wood burning smell. Once the smoker comes up to temp my cook chamber temps are extremely consistent. Once food has been cooking for a while it has an amazing smell that permeates the surrounding neighborhood.
Burn: The pellets seemed to burn flawlessly providing a nice thin blue smoke. How efficiently they burn is apparent in the inspection of the fire pot. Upon inspecting the fire pot and lower chamber after cooks, the pellets appeared to burn down completely leaving a fine ash behind with minimal build up in the burn pot. During cooks no excessive ash was noticed blowing around and coating the food providing for high quality end product. The picture below shows buildup after several weeks of burning mostly hickory and pecan.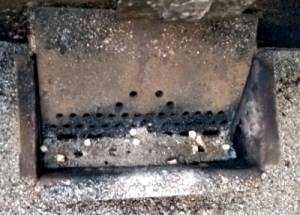 All in all I am very impressed with this product. I give Bear Mountain Forest Products BBQ pellets two thumbs up! Stay tuned and keep watching SmokeTube video here at SmokingPit.com.
Bear Mountain Forest Products BBQ pellets can be purchased at your local Cash-N-Carry or by calling Bear Mountain Forest Products directly and placing a bulk order. Use the store locator to find a store near you. Feel free to call Bear Mountain Forest Products with any questions regarding their products. You will find their service to be impeccable and shipping to be quick.
Bear Mountain Forest Products
Headquarters located in Cascade Locks, Oregon
5 NE Cramblett Way, Cascade Locks, Oregon 97014

Brownsville Plant
34363 Lake Creek Dr, Brownsville, Oregon 97327
Tel: 503-334-1558
Fax: 503-334-1559
Email: info@bmfp.com
Bear Mountain Website